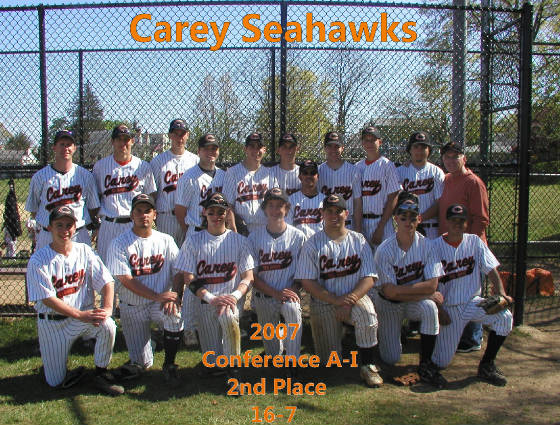 FINAL 2007 Conference A1 Standings
Teams
Wins
Losses
Games Back
Garden City Trojans
13
4
0
Carey Seahawks
12
5
1
Hewlett Bulldogs
9
8
4
Great Neck South Rebels
3
14
11
Lawrence Golden Tornadoes
2
15
12
A2
Wins
Loss
Ties
Games Back
Plainedge
15
3
0
0
Division
14
3
1
0.5
New Hyde Park
11
6
1
3.5
South Side
11
7
0
4
Jericho
6
12
0
9
Roslyn
4
14
0
11
Sewanhaka
1
17
0
14
A3
Wins
Loss
Ties
Games Back
Wantagh
13
4
0
0
Bethpage
9
8
0
4
Floral Park
8
8
1
4.5
Lynbrook
4
12
1
8.5
West Hempstead
3
13
1
9.5
A4
Wins
Loss
Ties
Games Back
lsland Trees
16
1
0
0
Seaford
12
5
0
4
Clarke
12
5
0
4
Glen Cove
6
11
0
10
GN North
0
17
0
16
A5
Wins
Loss
Ties
Games Back
North Shore
13
2
2
0
Mineola
12
5
0
2
Manhasset
10
5
2
3
VS South
6
11
0
8
VS North
4
12
1
9.5
Carey Seahawks 2007 Schedule
Day
Date
Opponent
Site
Time
Result
J.V
Friday
16-Mar
MALVERNE (S)
HOME
4:15PM
PPD.
away
Saturday
17-Mar
Locust Valley (S)
away
10:30AM
PPD.
HOME
Tuesday
20-Mar
Manhasset (S)
away
4:00PM
*
HOME
Thursday
22-Mar
MINEOLA (S)
HOME
4:00PM
PPD.
away
Friday
23-Mar
ROSLYN (S)
HOME
4:15PM
PPD.
away
Monday
26-Mar
Clarke (L)
away
4:30PM
Lose 9-5
No Game
Tuesday
27-Mar
ISLAND TREES (L)
HOME
4:30PM
Lose 13-0
away
Saturday
31-Mar
Oyster Bay (S)
away
10:00AM
*
HOME
Saturday
31-Mar
CLARKE (L)
JV Only
10:00AM
*
HOME
Thursday
5-Apr
Great Neck North (L)
away
4:30PM
Win 23-6
HOME
Monday
9-Apr
GLEN COVE (L)
HOME
12:00PM
Win 11-2
away
Tuesday
10-Apr
Seaford (L)
away
11:00AM
Lose 8-4
HOME
Wednesday
11-Apr
FLORAL PARK (NL)
HOME
4:00PM
Win 13-6
away
Thursday
12-Apr
Elmont (NL)
away
4:15PM
Lose 6-4
No Game
Friday
13-Apr
Port Washington (NL)
away
4:30PM
Win 10-8
HOME
Monday
16-Apr
North Shore (S)
away
4:30PM
*
HOME
Wednesday
18-Apr
Wantagh (S)
away
4:00PM
*
away
Thursday
19-Apr
PLAINEDGE (S)
HOME
4:00PM
*
away
Wednesday
9-May
SEWANHAKA (NL)
HOME
4:00PM
Win 10-9
away
Monday
23-Apr
Garden City (L)
JV Only
4:15PM
*
away
Tuesday
24-Apr
Garden City (L)
away
4:15PM
Lose 24-1
No Game
Wednesday
25-Apr
GARDEN CITY (L)
HOME
4:15PM
Win 8-5
No Game
Thursday
26-Apr
GARDEN CITY (L)
HOME
4:15PM
Lose 5-2
away
Friday
27-Apr
GARDEN CITY (L)
JV Only
4:15PM
*
HOME
Monday
30-Apr
Lawrence (L)
away
4:30PM
Win 11-1
HOME
Tuesday
1-May
LAWRENCE (L)
HOME
4:30PM
Win 6-5
No Game
Wednesday
2-May
Lawrence (L)
JV Only
4:30PM
*
away
Thursday
3-May
LAWRENCE (L)
JV Only
4:30PM
*
HOME
Friday
4-May
Lawrence
away
4:30PM
Win 17-3
No Game
Monday
7-May
GREAT NECK SOUTH (L)
HOME
4:30PM
Win 13-0
away
Tuesday
8-May
Great Neck South (L)
away
4:30PM
Win 14-0
HOME
Thursday
10-May
GREAT NECK SOUTH (L)
HOME
4:30PM
Win 13-10
away
Monday
14-May
Hewlett (L)
away
4:30PM
Win 3-1
HOME
Tuesday
15-May
HEWLETT (L)
HOME
4:30PM
Win 17-7
away
Wednesday
16-May
Hewlett (L)
away
4:30PM
Win 18-2
HOME
Playoffs
First Round- Carey Seahawks 11 vs South Side Cyclones 7
Second Round-Carey Seahawks 7 vs Plainedge Red Devils 9
| | | | | | | | | | | | | | | | | | | | | | | | | | | | | |
| --- | --- | --- | --- | --- | --- | --- | --- | --- | --- | --- | --- | --- | --- | --- | --- | --- | --- | --- | --- | --- | --- | --- | --- | --- | --- | --- | --- | --- |
| Player | AB | R | H | 1B | 2B | 3B | HR | RBI | TBB | Avg | Slg | Obp. | Trend | 3Avg. | Avg RSP | Cont% | OBS | G | SOL | SOS | HP | SB | Sacb | Sacf | CS | SB% | TB | HS |
| Babich, Dan | 35 | 9 | 11 | 10 | 1 | 0 | 0 | 4 | 0 | 314 | 343 | 306 | 11 | 429 | 0 | 771 | 648 | 19 | 0 | 8 | 0 | 7 | 0 | 1 | 0 | 1000 | 12 | 4 |
| Bizelia, Alex | 16 | 4 | 5 | 4 | 1 | 0 | 0 | 3 | 4 | 313 | 375 | 450 | -21 | 500 | 0 | 563 | 825 | 14 | 0 | 7 | 0 | 3 | 0 | 0 | 0 | 1000 | 6 | 0 |
| Carr, Joe | 48 | 16 | 12 | 7 | 2 | 1 | 2 | 12 | 7 | 250 | 458 | 379 | -17 | 300 | 0 | 854 | 838 | 16 | 0 | 7 | 3 | 3 | 1 | 0 | 1 | 750 | 22 | 0 |
| Hardman, Brian | 20 | 1 | 2 | 1 | 1 | 0 | 0 | 2 | 0 | 100 | 150 | 136 | -5 | 200 | 0 | 650 | 286 | 13 | 0 | 7 | 1 | 0 | 1 | 1 | 0 | 0 | 3 | 0 |
| Herman, Jake | 14 | 1 | 5 | 4 | 0 | 0 | 1 | 3 | 1 | 357 | 571 | 400 | -143 | 200 | 0 | 857 | 971 | 12 | 0 | 2 | 0 | 1 | 0 | 0 | 0 | 1000 | 8 | 0 |
| Humrich, T.J. | 78 | 38 | 37 | 20 | 11 | 0 | 6 | 32 | 14 | 474 | 846 | 559 | 1 | 556 | 0 | 833 | 1405 | 23 | 0 | 13 | 1 | 12 | 0 | 0 | 0 | 1000 | 66 | 4 |
| Intagliata, Sal | 71 | 37 | 32 | 22 | 4 | 0 | 6 | 31 | 17 | 451 | 761 | 557 | 24 | 500 | 0 | 803 | 1317 | 23 | 0 | 14 | 0 | 31 | 0 | 0 | 0 | 1000 | 54 | 2 |
| Kreinbihl, Paul | 6 | 0 | 0 | 0 | 0 | 0 | 0 | 0 | 2 | 0 | 0 | 333 | 0 | 0 | 0 | 0 | 333 | 9 | 0 | 6 | 1 | 0 | 0 | 0 | 0 | 0 | 0 | 0 |
| Leamy, Joe | 64 | 8 | 19 | 15 | 3 | 1 | 0 | 9 | 4 | 297 | 375 | 338 | -25 | 222 | 0 | 859 | 713 | 20 | 0 | 9 | 0 | 5 | 0 | 0 | 0 | 1000 | 24 | 0 |
| Marino, Anthony | 5 | 0 | 0 | 0 | 0 | 0 | 0 | 0 | 2 | 0 | 0 | 286 | 0 | 0 | 0 | 800 | 286 | 12 | 0 | 1 | 0 | 0 | 0 | 0 | 0 | 0 | 0 | 0 |
| Masci, Gianni | 62 | 27 | 25 | 16 | 6 | 1 | 2 | 21 | 19 | 403 | 629 | 554 | -11 | 455 | 0 | 887 | 1183 | 23 | 0 | 7 | 2 | 11 | 0 | 0 | 0 | 1000 | 39 | 4 |
| Punis, John | 27 | 11 | 7 | 4 | 3 | 0 | 0 | 3 | 6 | 259 | 370 | 394 | 9 | 200 | 0 | 815 | 764 | 10 | 0 | 5 | 0 | 10 | 1 | 0 | 0 | 1000 | 10 | 1 |
| Ramos, Victor | 15 | 1 | 5 | 5 | 0 | 0 | 0 | 3 | 3 | 333 | 333 | 444 | 61 | 400 | 0 | 800 | 778 | 14 | 0 | 3 | 0 | 0 | 0 | 0 | 0 | 0 | 5 | 2 |
| Santoro, Nick | 13 | 2 | 1 | 1 | 0 | 0 | 0 | 1 | 1 | 77 | 77 | 200 | -14 | 0 | 0 | 692 | 277 | 10 | 0 | 4 | 1 | 0 | 0 | 0 | 0 | 0 | 1 | 0 |
| Spanopoulos, Jamie | 69 | 12 | 29 | 21 | 4 | 2 | 2 | 31 | 3 | 420 | 623 | 444 | -22 | 364 | 0 | 942 | 1068 | 21 | 0 | 4 | 0 | 5 | 0 | 0 | 0 | 1000 | 43 | 3 |
| Vella, Chris | 56 | 22 | 16 | 13 | 3 | 0 | 0 | 3 | 11 | 286 | 339 | 403 | -16 | 333 | 0 | 768 | 742 | 21 | 0 | 13 | 0 | 6 | 0 | 0 | 0 | 1000 | 19 | 0 |
| Torregrossa, Tommy | 53 | 20 | 24 | 17 | 6 | 1 | 0 | 9 | 9 | 453 | 604 | 538 | -26 | 375 | 0 | 811 | 1142 | 19 | 0 | 10 | 2 | 9 | 1 | 1 | 0 | 1000 | 32 | 0 |
| Scott, Kevin | 3 | 1 | 1 | 1 | 0 | 0 | 0 | 2 | 0 | 333 | 333 | 250 | 0 | 333 | 0 | 333 | 583 | 1 | 0 | 2 | 0 | 0 | 0 | 1 | 0 | 0 | 1 | 1 |
| Molloy, John | 41 | 11 | 20 | 15 | 5 | 0 | 0 | 17 | 6 | 488 | 610 | 563 | -12 | 545 | 0 | 854 | 1172 | 16 | 0 | 6 | 1 | 3 | 0 | 0 | 0 | 1000 | 25 | 10 |
| | | | | | | | | | | | | | | | | | | | | | | | | | | | | |
| Total for Team | 696 | 221 | 251 | 176 | 50 | 6 | 19 | 186 | 109 | 361 | 532 | 453 | 0 | 0 | 0 | 816 | 985 | 23 | 0 | 128 | 12 | 106 | 4 | 4 | 1 | 991 | 370 | 31 |
| | | | | | | | | | | | | |
| --- | --- | --- | --- | --- | --- | --- | --- | --- | --- | --- | --- | --- |
| Player | G | Inn | PO | A | EF | ET | Errors | F% | 2B-P | PB | CCS | CSB |
| Babich, Dan | 19 | 0 | 8 | 0 | 0 | 0 | 0 | 1000 | 0 | 0 | 0 | 0 |
| Bizelia, Alex | 14 | 0 | 32 | 8 | 2 | 0 | 2 | 952 | 0 | 0 | 0 | 0 |
| Carr, Joe | 16 | 0 | 3 | 15 | 2 | 0 | 2 | 900 | 0 | 0 | 0 | 0 |
| Hardman, Brian | 13 | 0 | 4 | 14 | 0 | 1 | 1 | 947 | 0 | 0 | 0 | 0 |
| Herman, Jake | 12 | 0 | 1 | 4 | 5 | 0 | 5 | 500 | 0 | 0 | 0 | 0 |
| Humrich, T.J. | 23 | 0 | 43 | 29 | 7 | 2 | 9 | 889 | 0 | 0 | 0 | 0 |
| Intagliata, Sal | 23 | 0 | 29 | 0 | 5 | 2 | 7 | 806 | 0 | 0 | 0 | 0 |
| Kreinbihl, Paul | 9 | 0 | 1 | 1 | 0 | 0 | 0 | 1000 | 0 | 0 | 0 | 0 |
| Leamy, Joe | 20 | 0 | 8 | 0 | 0 | 0 | 0 | 1000 | 0 | 0 | 0 | 0 |
| Marino, Anthony | 12 | 0 | 7 | 7 | 1 | 0 | 1 | 933 | 0 | 0 | 0 | 0 |
| Masci, Gianni | 23 | 0 | 27 | 41 | 13 | 3 | 16 | 810 | 0 | 0 | 0 | 0 |
| Punis, John | 10 | 0 | 7 | 2 | 2 | 0 | 2 | 818 | 0 | 0 | 0 | 0 |
| Ramos, Victor | 14 | 0 | 37 | 1 | 0 | 5 | 5 | 884 | 0 | 0 | 0 | 0 |
| Santoro, Nick | 10 | 0 | 0 | 0 | 0 | 0 | 0 | 0 | 0 | 0 | 0 | 0 |
| Spanopoulos, Jamie | 21 | 0 | 113 | 11 | 1 | 1 | 2 | 984 | 0 | 0 | 0 | 0 |
| Vella, Chris | 21 | 0 | 20 | 5 | 4 | 0 | 4 | 862 | 0 | 0 | 0 | 0 |
| Torregrossa, Tommy | 19 | 0 | 5 | 18 | 7 | 4 | 11 | 676 | 0 | 0 | 0 | 0 |
| Scott, Kevin | 1 | 0 | 0 | 0 | 1 | 0 | 1 | 0 | 0 | 0 | 0 | 0 |
| Molloy, John | 16 | 0 | 63 | 8 | 0 | 0 | 0 | 1000 | 0 | 0 | 0 | 0 |
| | | | | | | | | | | | | |
| Total for Team | 23 | 0 | 408 | 164 | 50 | 18 | 68 | 894 | 0 | 0 | 0 | 0 |
| | | | | | | | | | | | | | | | | | | | | | | | | | | | | | | | | | | | | | |
| --- | --- | --- | --- | --- | --- | --- | --- | --- | --- | --- | --- | --- | --- | --- | --- | --- | --- | --- | --- | --- | --- | --- | --- | --- | --- | --- | --- | --- | --- | --- | --- | --- | --- | --- | --- | --- | --- |
| Player | IP | #BAT | RS | ER | Bk | BB | SOL | HITS | HR | IW | SACF | SACB | HP | WP | W | L | S | AVG | HR% | ERA | WIN% | GP | G | RATIO | CG | GS | B | St | Shut | TP | K/G | W/G | P/G | S/B | SOS | ND | SO |
| Bizelia, Alex | 9.67 | 41 | 4 | 0 | 0 | 2 | 0 | 4 | 1 | 0 | 0 | 0 | 1 | 0 | 1 | 0 | 1 | 105 | 26 | 0.00 | 1000 | 5 | 14 | 0.62 | 0 | 0 | 0 | 0 | 0 | 0 | 10.14 | 1.45 | 0.00 | 0.00 | 14 | 0 | 14 |
| Carr, Joe | 23.33 | 94 | 3 | 2 | 0 | 10 | 0 | 16 | 0 | 1 | 0 | 0 | 0 | 0 | 3 | 0 | 0 | 193 | 0 | 0.60 | 1000 | 6 | 16 | 1.11 | 0 | 0 | 0 | 0 | 0 | 0 | 9.30 | 3.00 | 0.00 | 0.00 | 31 | 0 | 31 |
| Herman, Jake | 11.67 | 61 | 13 | 9 | 0 | 6 | 0 | 15 | 0 | 0 | 0 | 0 | 2 | 0 | 0 | 0 | 0 | 283 | 0 | 5.40 | 0 | 6 | 12 | 1.80 | 0 | 0 | 0 | 0 | 0 | 0 | 6.00 | 3.60 | 0.00 | 0.00 | 10 | 0 | 10 |
| Humrich, T.J. | 44.00 | 214 | 48 | 23 | 0 | 15 | 0 | 39 | 3 | 0 | 0 | 0 | 3 | 0 | 4 | 4 | 1 | 199 | 15 | 3.66 | 500 | 8 | 23 | 1.23 | 0 | 0 | 0 | 0 | 0 | 0 | 6.20 | 2.39 | 0.00 | 0.00 | 39 | 0 | 39 |
| Intagliata, Sal | 2.33 | 15 | 4 | 1 | 0 | 5 | 0 | 1 | 0 | 0 | 0 | 0 | 0 | 0 | 0 | 1 | 0 | 100 | 0 | 3.00 | 0 | 1 | 23 | 2.57 | 0 | 0 | 0 | 0 | 0 | 0 | 0.00 | 15.00 | 0.00 | 0.00 | 0 | 0 | 0 |
| Marino, Anthony | 43.67 | 206 | 25 | 18 | 1 | 22 | 0 | 42 | 0 | 0 | 0 | 0 | 0 | 0 | 6 | 0 | 1 | 228 | 0 | 2.89 | 1000 | 9 | 12 | 1.47 | 0 | 0 | 0 | 0 | 0 | 0 | 7.05 | 3.53 | 0.00 | 0.00 | 44 | 0 | 44 |
| Masci, Gianni | 5.33 | 30 | 7 | 3 | 0 | 6 | 0 | 2 | 0 | 0 | 0 | 0 | 0 | 0 | 1 | 0 | 0 | 83 | 0 | 3.94 | 1000 | 2 | 23 | 1.50 | 0 | 0 | 0 | 0 | 0 | 0 | 5.25 | 7.88 | 0.00 | 0.00 | 4 | 0 | 4 |
| Spanopoulos, Jamie | 10.67 | 62 | 20 | 16 | 0 | 19 | 0 | 9 | 0 | 0 | 0 | 0 | 1 | 0 | 1 | 2 | 0 | 214 | 0 | 10.50 | 333 | 4 | 21 | 2.63 | 0 | 0 | 0 | 0 | 0 | 0 | 6.56 | 12.47 | 0.00 | 0.00 | 10 | 0 | 10 |
| Vella, Chris | 1.00 | 14 | 9 | 3 | 0 | 0 | 0 | 7 | 1 | 0 | 0 | 0 | 0 | 0 | 0 | 0 | 0 | 500 | 71 | 21.00 | 0 | 1 | 21 | 7.00 | 0 | 0 | 0 | 0 | 0 | 0 | 0.00 | 0.00 | 0.00 | 0.00 | 0 | 0 | 0 |
| Torregrossa, Tommy | 2.00 | 18 | 11 | 10 | 0 | 3 | 0 | 7 | 3 | 0 | 0 | 0 | 0 | 0 | 0 | 0 | 0 | 467 | 200 | 35.00 | 0 | 2 | 19 | 5.00 | 0 | 0 | 0 | 0 | 0 | 0 | 10.50 | 10.50 | 0.00 | 0.00 | 3 | 0 | 3 |
| Molloy, John | 3.00 | 16 | 2 | 2 | 0 | 1 | 0 | 4 | 0 | 0 | 0 | 0 | 0 | 0 | 0 | 0 | 0 | 267 | 0 | 4.67 | 0 | 1 | 16 | 1.67 | 0 | 0 | 0 | 0 | 0 | 0 | 14.00 | 2.33 | 0.00 | 0.00 | 6 | 0 | 6 |
| | | | | | | | | | | | | | | | | | | | | | | | | | | | | | | | | | | | | | |
| Total for Team | 156.67 | 771 | 146 | 87 | 1 | 89 | 0 | 146 | 8 | 1 | 0 | 0 | 7 | 0 | 16 | 7 | 3 | 217 | 12 | 3.89 | 696 | 45 | 23 | 1.50 | 0 | 0 | 0 | 0 | 0 | 0 | 7.19 | 3.98 | .00 | .00 | 161 | 0 | 161 |
Devils Ground '07 Seahawks
The successful run of the 2007 Carey Seahawks is officially over. A second round playoff loss to the Plainedge Red Devils 9-7 will be the final mark in a 16-7 season that saw them win 11 straight games, finish in second place, earn league wide respect and earn six individual awards for various players.
So despite leaving the field for the final time this year with a sickening feeling in the gut it would be unfair to all involved to call this season a failure.
There is no shame in losing to a number two seed at their place. The only shame is when you lose and you're the team that beat YOU! Such was the case as the young Seahawks committed five errors, two mental gaffes in the field, two baserunning blunders, and an incredible inability to make outs when given by an opponent. When you add it all up there were simply too many self-inflicted mistakes to overcome.
So, with apologies to the Seniors, the underclassmen will have to show that they can learn from their playoff experience and develop into a contender next year as they once again make the jump to AA.
In closing, to the parents, thanks for all the support. And to the players thanks for giving it your all these past six months. It will be a memory that both the coaches and the players look back on proudly in the future.
Seahawks Outslug Cyclones
With a crowd of nearly 250 looking on the Seahawks out-hit, out-played and out-slugged the South Side Cyclones 11-7 in the opening round of the Nassau County 'A' Playoffs.
Anthony "Please Don't Sing in the Lockerroom" Marino went the distance to earn his first ever playoff victory. His overall record now sits at 6-0-1 as his impressive All-Conference campaign continues.
At the plate all nine starters reached on base hits starting with leadoff man Joe "Helen Keller" Carr who went 3 for 4 with two RBI's.
The rest chipped in as follows: T.J. "Mr. Assists" Humrich went 1 for 3 with an RBI, Sal "Deuces Wild" Intagliata went 2 for 2 with two singles, two walks, two runs scored, two RBI's and two more stolen bases, Gianni "Move to Your Right :)" Masci was 2 for 4 with and RBI and two runs scored, Jamie "Pig Pen" Spanopoulos had a single and an RBI, Tommy "8-2" Torregrossa had a single and an RBI, John "The Stroke" Molloy had a single and a double, Dan "Scooby" Babich had a double and Chris "The High Five Handbreaker" Vella rounded out the stats with an RBI single and a perfect sacrifice bunt that helped score another run.
The win by the 16-6 Hawks materialized by making the most of their opportunities on the basepaths something they hadn't been able to do very well for part of the year. Good leads turned into stolen bases, good hustle and smart slides kept innings alive and when the chance to pad the score arose the Hawks did just that as the 6-0 and 11-4 leads were needed when the Hawks allowed some late unearned runs to make things close.
Defensively, Dan Babich's handling of a tough liner in the first, Chris Vella's warning track grab in the second and Sal Intagliata's ball blocking skills out in center as well as Intagliata's and Vella's involvement in a third inning rundown wrapped up a superb showing by Coach Farina's OF Crew who have really risen their game as of late.
On the infield side of things the rookie corners Molloy and Torregrossa played another solid game so much so that it is now expected, while seasoned vets like Humrich and Masci, whose spinning throw ended the game, have solidified the Hawks middle. Kudos also go out to Jamie Spanopoulos whose shot in the 7th down to third completed a rare strikeout-throwout.
If the Hawks are to continue to make a push in these 2007 Playoffs then the solid hitting and fielding they showed in game one will have to shine even more. They will get that next opportunity this Monday May 21st at 4:30PM when they head to # 2 Plainedge to face off against the Red Devils.
# 9 Seahawks Draw South Side
After 17 league games you would hope that you would finally be able to control your own destiny. So despite the nine consecutive wins and some help from North Shore the Hawks playoff seeding fate was left to a couple of index cards. The cards were marked 7, 8 & 9 and Coach Hedquist was asked to choose one. He drew an 8, unfortunately Seaford drew a 9 and since they won the head to head meeting they automatically switched cards with the Hawks. Mineola, whose coach wasn't even present, showed up 15 minutes later and found out that they were the 7 seed.
Sure some people will say we wuz robbed but the undeniable fact remains that you have to take care of your own backyard and since Seaford beat us 8-4 in game five they earned the right to take our 8 card.
On the positive, the # 9 Seahawks are two days away from another home playoff game for the second year in a row. They will welcome the 11-7-1 South Side Cyclones to our arena baseball field this Saturday at 2PM, weather permitting. They are a solid program and will be respected as such but a home playoff game for the fired up Hawks will hopefully be tough for them to overcome.
Perfect 10:Seahawks Sweep
Two and a half months, and twenty one games later the 15-6 Carey Seahawks have just completed their first season. Now the second season is finally here, as the 2007 Playoff Chase begins in earnest this Saturday.
Unfortunately, as of press time, it appears the Seahawks will have to wait another day to see what seed they get and whether or not they will receive a double or single elimination bid as inclement weather cancelled several key games. Most notably the Mineola-North Shore game which will directly affect the Carey weekend travel plans.
As for the Hewlett finale the Hawks bats were alive and kickin' as there was an all-out Sherm Alert in an 18-2 laugher. The Hawks banged out 15 hits and were paced by the multiple hit efforts of T.J. "Eye Drops" Humrich who went 3 for 4 with a team leading 6th Home Run, Gianni "Don't Buy Gas" Masci who went 2 for 3 with 3 RBI's, Jamie "Gas-X" Spanopoulos who went 2 for 3 with 4 more RBI's, John "Cinder Blocks" Molloy who went 3 for 4 with 2 RBI's and Tommy "Change the Scorebook" Torregrossa who went 2 for 3 with 3 runs scored.
On the hill Joe "Ray Charles" Carr won his third straight as he went six innings allowing just seven hits, one earned run, one walk while striking out a career high 10 batters.
The win was the 10th straight for the Seahawks, who smelled blood early and never let up just like all good teams do. On this occasion there was no leaving a team around. The win blended together well with yesterday's slugest and Monday's pitching duel. The Hawks have now shown that they will play it anyway you want and continue to be successful.
Details on all the playoff possibilities should be available by tomorrow night. Stay Tuned.
Seahawks Clinch Second
The long and winding road through Conference AI finally found a destination as the Seahawks wrapped up their finest finish since the '02 Independent League Title. After struggling early in the year in the crossover games the Hawks have played very well of late stringing together eight league wins in a row to land in second place.
With just one game to go the Hawks will now be ranked either 8th or 9th for when the Conference A Playoffs begin this Saturday. Time, team and place will not be available until Thursday night.
Unlike the pitching duel in game one this affair pumped out a combined 24 runs as the Hawks scored a late TD to defeat Hewlett 17-7. T.J. "Move the LF In" Humrich rushed for 87 yards and got the win to bump his pitching record to 4-3. Sal "Prom King" Intagliata went 1 for 4 with a small fish 247 foot Home Run but unfortunately was picked off in the end zone twice. Jamie "Styrofoam" Spanopoulos scored two TD's in addition to completely demolishing a defenseless ice cooler. Chris "The Comedian" Vella who never officially batted but managed to score three times also recovered a fumble. And lastly Joe "Sports" Carr notched a career day as he went 2 for 3 with a monster Home Run and 5 RBI's to go along with a 67 yard field goal.
All jokes the aside, the Hawks who may have played their last home game of the year have now won nine league and non-league games in a row. They have scored a mind boggling 104 runs during the streak and the offense has given the pitching staff a chance to work through their mistakes and tune up as the tighter playoff games get near.
Their is however one regular season game remaining that the Hawks must work hard for if they are to battle for the double elimination bid. That game will take place at Hewlett as the Hawks go for their third consecutive sweep.
In closing, on behalf of the Seahawks team a tremendous thank you goes out to several people as the Carey community continues to shine. --First to Mrs. Humrich for supplying the cookies, cupcakes, balloons and water on Senior Day. Jamie said sorry about your cooler, He will be washing your car this weekend to pay the difference.--Second to Frank "The Hit Man" Intagliata Jr. for helping water down and prepare the field. --Third to Carey Baseball Alums C.J. "The Original Ringo" Zahradka, Jon "Nice Shirt" Brosnan and Dustin "Tan in a Can" Capriglione for coming down to support the fellas.
For the curious this just in...Mineola has won to raise their record to 12-4. The Hawks must win tomorrow and Mineola must lose tomorrow and Coach Hedquist better have a lucky coin flip or the Hawks will open at home vs South Side as the number 9 seed in the single elimination bracket.
Seahawks Nip Bulldogs 3-1
In one of the most highly anticipated games in recent memory, the Seahawks behind the arm of Anthony "Beanpole" Marino and the bat of Jamie "Stinky Socks" Spanopoulos drew first blood vs the Hewlett Bulldogs, 3-1, in the opener of this AI second place power struggle.
With Newsday on hand for this featured attraction, the Hawks resorted to the good old fashioned big three: good pitching, good defense and timely hitting. Marino went the distance in just 83 pitches striking out seven and allowing just a run in the bottom of the first. The Hawks outfielders, who battled terrible sun conditions, worked through that adversity and put up a remarkable effort to help squash several Bulldog rallies. Joe "Cold Sore" Leamy and Sally "Shades" Intagliata both ended Bulldog threats that, if misplayed, could have broken the game open for Hewlett. And lastly, it was Jamie Spanopoulos' two out, two run single in the third that held up as the game winner. To add to Spanopoulos' fine day he also picked a runner off first to squash yet another Bulldog rally.
Another huge positive for the Seahawks was their tight win that for once didn't rely on the big bats. It showed that if things tighten this young team WILL respond to the pressure and get the job done.
The Hawks return to the friendly confines of arena field tomorrow as they search for another win in order to wrap up second place. For the Carey Seniors it might be their finale on the old field. Game time is 4:30PM.
Seahawks Quell Rebels 13-10
"It ain't over 'til it's over" couldn't have rang more true than in the series finale with the Great Neck South Rebels. A 13-3 chokehold lead going into the sixth turned into an unnecessary nailbiter as T.J. Bookends" Humrich completed a feat rarer than a perfect game. He saved his own game after re-entering to pitch in the seventh inning to put down a late Rebel charge.
The change was made when the Hawks relief corps, which had been a bit depleted from the day before, couldn't hold a 13-3 fifth inning lead. After watching the lead dissipate to three runs, Humrich whose pitch count was only at 61, returned for an uneventful seventh inning for the diamond in the rough type daily double.
Fortunately the Hawks high octane attack was able to put up just enough runs to keep Great Neck at bay. The 40 runs in three games was a season series high and the long ball was a big part of it. Jamie "Dirty Pants" Spanopoulos, Joe "Pushups" Carr, and Sal "The Pencil Guy" Intagliata all Homered as they accounted for eight of the thirteen runs batted in. After the third bomb off the bat of Joe Carr the Rebels actually abandoned right field and put two outfielders in left field each at about 375 feet away. Only in the world of Carey Arena Baseball do you see such oddities.
Adding to the uniqueness was the fact that every Seahawks starter got at least one hit and only John "Roy Hobbs" Molloy did not score a run. Molloy, did however, lead the team, along with Spanopoulos, with four RBI's.
Other offensive contributors were Joe "Carousel" Leamy who went 2 for 3 with a triple, Gianni "Game Face" Masci who went 2 for 4 with a double, Tommy "HBP" Torresgrossa who went 1 for 2 with a double and Chris "Hair Salon" Vella who went 1 for 4 while making a leaping grab against the right field fence in the second inning.
The win moves the Hawks to 9-5 as they head into the last week of the season with several playoff fates undecided. They still have a shot at a double elimination bracket spot and they still have a shot at second place in the AI dogfight.
The Hawks wrap up their regular season next week as they play three in three days against Hewlett. They play the sandwich game on Tuesday at Home in the probable finale for many of the Carey Seniors. Game time for all three games will be 4:30PM.
Seahawks Rally To Capture BWC
After eight straight grueling league games the Seahawks were able to entertain a guest with no playoff implications at stake. Instead the Hawks would have to set their sites on continuing their dominance of the Sewanhaka Indians as the Bob Walpole Classic V was once again the Non-League Prize available for the taking.
With Bobby "Waps" Walpole from Da Bronx in the house, the Seahawks got the bats going early as they raced out to a first inning 3-1 lead after Jake "The Snake" Herman did a little bit of yard work as he Homered down the left field line just over the third base bag to score E.J. Humrich and Dan "Scooby" Babich.
From there some shoddy play in the field and some control problems on the hill led to two hitters' counts that resulted in a two run Home Run and a Grand Slam for the fired up 1-14 Indians. The confident Hawks would need to stop the bleeding somehow or the 9-4 deficit might become to great to overcome. The Hawks were in need of a go-to-guy and they found him in Alex "Mop Top" Bizelia who pitched brilliantly registering 3 2/3 innings of no-run, no-hit baseball to allow a comeback to happen.
The Hawks began to chip away in the fourth when T.J Humrich's deep fly ball to center was lost in the sun for a two run Home Run, his third in as many days, to cut the lead to 9-6.
In the sixth John "You Can Warmup Now" Molloy and Alex Bizelia each singled before Nick "Disco Rules!" Santoro caught one on the Keister to load the bases. Joe "The Ball Chaser" Leamy scored Molloy on a hard hit force out to second base to make it 9-7. On the next pitch Humrich roped a single to right to score both Bizelia and Santoro to tie the game.
With Bizelia humming along the Hawks and Coach Walpole could feel something special brewing, a lottery drawing by Coach "Yolanda Vega" Hedquist in the bottom of the seventh was won by Sal "The Wedding Photographer" Intagliata who earned the right to pinch hit. Intagliata after shaking off the rust, promptly smacked a single to left to lead the inning off. On the next pitch he stole second (His 22nd of the year, one behind older brother Frank's All-Time Record of 23) before being perfectly bunted over to third by Brian "The Barry Bonds Of Gym Softball" Hardman. Surprisingly and unexpectedly the Indians chose to not load the bases which gave the next pinch hitter Gianni "The Car Dude" Masci an opportunity to win it. Masci wasted no time at all as he laced a frozen rope to left for his first walk off single of his career.
And so it was, the Hawks moved to 5-0 All Time in the BWC. Alex Bizelia, after posing with Coach Walpole, was named MVP. The Seahawks won their sixth straight, and the Winning Train kept -a- rollin'. The next stop is at home tomorrow where the Hawks hope to complete the sweep of the Rebels. Game Time is 4:30PM.
Seahawks Rout Rebels
For the second consecutive day the Seahawks' offensive and defensive prowess was on display again in a 14-0 rout of the Great Neck South Rebels.
Offensively, the Hawks were led by Jamie "Jewelry" Spanopoulos who went 3 for 5 with four RBI's, T.J. "The Fence Breaker" Humrich who went 2 for 4 with a Home Run for the second straight day, Sal "The Wedding Cake" Intagliata who went 2 for 3 with 2 stolen bases, Joey "Jawbreaker" Leamy, who went 2 for 3 with an RBI, Tommy "7" Torregrossa who went 2 for 3 with a double and an RBI and John "Helmet Head" Molloy who went 2 for 3 with an RBI.
Defensively, Anthony "T.J. Target Practice" Marino pitched five scoreless innings striking out four to earn his fourth win of the season. The Hawks defense turned two more double plays to make it six in the last three games. as they hopefully are finally hitting their stride in the field.
The Hawks finish the Great Neck series on Thursday at home, but prior to that they will host Sewanhaka in the 5th annual Bob Walpole Classic on Wednesday at 4:00PM.
Seahawks Blank Rebels 13-0
Joe "Cameo" Carr went the distance allowing just four hits and three walks while striking out a career high eight batters in a 13-0 whitewash of the Great Neck South Rebels.
At the plate both Gianni "No Hablo" Masci and T.J. "Fire and Ice" Humrich each hit three run Home Runs courtesy of the new roll under the fence rule to pace the attack. Good Looking Out Coach Turco!
Also at the plate Sal "The Wedding Planner" Intagliata notched four RBI's to go along with a 2 for 4 day, while Jamie "The Waterboy" Spanopoulos, Chris "1991 Mini-Me" Vella, Joe "The Wedding Crasher" Leamy, Tommy "The Vulture" Torresgrossa and John "The Scorekeeper" Molloy each contributed to the 13 run outburst.
The high powered Hawks have now put up 30 runs in the last two games proving that hitting can be quite contagious. They next set their sites on a solid road game as they head to Great Neck on Tuesday for their only road appearance of the series.
Last but not least, with the win the hungry Hawks have now clinched a playoff spot for the second consecutive season. Congrats for today on that achievement but quite simply the bar remains much higher than that in the new Carey Baseball Era.
Seahawks Sweep Lawrence
Sal "The Wedding Singer" Intagliata's straight steal of Home in the top of the 5th gave the Seahawks the lead for good at 4-3. One inning later the Hawks exploded with 13 runs to cap off a monster week as they put away the Golden Tornadoes 17-3.
It was the first sweep of the year for the Hawks since doing the trick in 2006 at Elmont. The win also moves the Hawks record to over .500 (6-5) in League play for the first time all season.
T.J. "Stats Man" Humrich led the charge at the plate and on the hill as he went 5 for 5 with four runs scored, four RBI's, two doubles and four stolen bases. As the winning pitcher he allowed just four hits while striking out four in 5-1/3 innings.
Dan "Scooby" Babich continued to swing the bat well as he put up a 3 for 5 day with three steals and two RBI's. Joe "Guest Appearance" Carr, 2 for 4, opened the 13 run onslaught with a triple to go along with a single and a perfect sacrifice bunt. Gianni "San Pedro" Masci played a flawless short while adding a 1 for 4 and two runs scored to the scorebook. Jamie "Signs" Spanopoulos notched three more singles to move his hitting streak to five games. John "Slide" Molloy chipped in three RBI's as he went 2 for 4. And, Chris "The Comedian" Vella had another hit to finish the series at a very impressive .600.
The Hawks return home on Monday as they welcome the Great Neck South Rebels in another three game set. Game Time on Monday is 4:30PM
Hawks Escape Tornadoes 6-5
At the High School level all you have to do is drop your guard for one second and at any time it can be lights out. Garden City learned the lesson last week, and for several scary innings the Hawks almost left with the same feeling and a huge spat of egg on their faces as the Golden Tornadoes nearly stole one at Carey Field.
Fortunately, the Seahawks had just enough to escape with a 6-5 win after Joe "8 Mile" Leamy's hard hit grounder in the bottom of the 7th was just enough to score Speedy Sal Intagliata with the game winner.
Anthony "Sasquatch" Marino went the distance for the second straight game to notch his team leading third win of the season. He allowed two earned runs, 7 hits, and 2 walks while striking out seven.
Chris "Red Hot" Vella added three more hits to raise his series average to .833. T.J. Humrich and Intagliata both went 3 for 4 with a combined 3 RBI's and 3 doubles apiece to pace the top of the order.
With the win 5-5 Seahawks eliminated the very game Tornadoes club from 2007 playoff contention. The teams conclude their series on Friday, not Thursday at Lawrence.
Hawks Chase Tornadoes 11-1
After the emotional Garden City series it was back to the Conference A1 grind against the Golden Tornadoes as the Hawks opened up their set in the not so friendly confines of Lawrence field.
A stiff 30-40 MPH wind directly into home plate, geese turds, low flying noisy planes, Texas style dust gusts and a clankety backstop made for the most uninviting of conditions as the Hawks took to their work week. And just like everybody else's work week, sometimes you've got to just get through a mundane Monday.
Such was the case for the Hawks as they soared to a solid if not sparkling 11-1 win in the first of three. Joe "Pickoff" Carr led the charge as he went six innings allowing only four hits and one earned run while striking out six to garner his first Varsity victory. He also went 2 for 3 at the plate with a double and an RBI. Chris "Forrest Gump" Vella ran wild on the basepaths as he swiped a career high five bases to go along with a 2 for 3 day at the dish.
Sal "Med Kit" Intagliata went 3 for 4 with 2 RBI's and four stolen bases, Tommy "Big Helmet" Torregrossa went 2 for 3 with 3 stolen bases, John "Olerud" Molloy went 2 for 3 with 2 RBI's all contributed to the offense while Dan "Scooby" Babich and Jake "The Snake" Herman each singled to raise the hit totals to 15.
The 4-5 Seahawks play the cordial host on Tuesday as they continue to creep closer to their 2007 goal: a Conference A playoff spot. Game Time will be 4:30PM again. And after experiencing the Lawrence atmosphere, an afternoon at Carey's arena baseball field and Fun Zone a home game never looked so good.
Seahawks Fall 5-2
Game three of the Carey-Garden City 2007 Conference AI rivalry was about as good as it gets at the high school level. There were numerous defensive gems by both sides. There were several long balls. And last but not least, there were two great pitchers giving it their all. In the end however it would be the Trojans who would prevail 5-2.
Their three run first inning would be just a little too much to overcome as the Hawks simply couldn't catch a break in the field. Deep fly balls, hard hit grounders and line drives in the hole all found Trojan gloves.
Offensively for the Hawks, Jamie "Stinky Socks" Spanopoulos' two run Home Run in the fourth that was preceded by Gianni "Fuel Exhaust" Masci's triple made it 3-2 in the fourth. The closest the Hawks would get again came in the sixth when Joe "FDB" Leamy's two out liner with first and second occupied was snared by the Trojans second baseman.
On the hill T.J. "The Purple Raven" Humrich went six innings striking out seven while allowing only three earned runs. At the plate he also had some hard luck as his first inning double fell one foot short of going out. That luck pretty much summed up the day as the Hawks played very well but were plain and simply beaten by the better team. There is certainly no shame in that.
The Hawks next move on to play the Golden Tornadoes of Lawrence starting on Monday April 30th. Game time is 4:30PM.
Seahawk Resurrection
Less than one day after enduring a 24-1 humiliation, the Carey Seahawks Baseball Team scraped their own tattered remains off the side of the road and finally decided that it was time to play with some pride and determination. Excuses, lazy efforts and mental mistakes would have to be eliminated, while pitching, good defense and timely hitting, one pitch at a time, would be the only goal and whatever happened would be fine.
Well the result was more than fine, as the Hawks won a thriller 8-5 over first place Garden City to move to within just one game in the loss column with the rubber match to follow tomorrow.
Anthony "Beanpole" Marino gutted out a complete game masterpiece to earn the win. He allowed just six hits while striking out a career best ten batters. He also had some glove love in the field as both T.J."Slip-N-Slide" Humrich and 'new' first baseman Gianni "What Time Is It?" Masci made diving stops to quell potential GC rallies. A shooter pickoff throw by catcher Jamie "What" Spanopoulos down to second base also benefited the team greatly as his heads-up play ended another big threat in the second inning.
Offensively, the Hawks dramatically curtailed their strikeouts and with that they were suddenly able to bang out nine singles and a double as balls found holes all day long. Spanopoulos, and Joe "DB" Leamy both went 2 for 3 with 2 RBI's to lead the way. Sal "Baseball Diet" Intagliata, Humrich, Tommy "Rook" Torregrossa, Chris "Whitesnake" Vella, John "GC Bleacher Fan Favorite" Punis and Masci all added hits to the statsheet.
A solid chest bump also goes out to Dan "Scooby" Babich when he pinch ran and proceeded to steal two bases before scoring on a Leamy single. His run held up as the game winner--- One pitch at a time and What will you do to help the team! ...That's what Dan did.
Weather permitting, as always!, the Hawks and Trojans will play the finale on Thursday...one pitch at a time.
Trojan Horse Massacre
24-1! Seven Errors, 17 hits, six walks, four Home Runs allowed, missed cutoffs, a triple play against, no offensive punch, total domination whilst the Seahawks played like deer in headlights. Such was the one day misery provided by the reigning County Champs, Garden City, when the Seahawks showed up to a gunfight with a water pistol.
A huge disappointing loss but a single loss nonetheless that will hopefully be forgotten as soon as possible as the Hawks look to rebound tomorrow and show that they do have the mettle to be a player in Conference A1 action.
Spartans Slay Seahawks
Theme for the Day: What goes up must come down! And so, the euphoric victory in Port Washington just a day earlier vanished like a burger at a picnic as the Independent League Elmont Spartans stunned the lifeless Seahawks 6-4 in a Non-League District match-up.
Even at the high school level, just showing up doesn't get it done. What gets it done is solid defense, putting the ball in play to force the other team to make mistakes, and throwing strikes, all traits exhibited by a hungry Spartans club who brought the right attitude to a David vs Goliath confrontation.
The Hawks mustered up just four hits. They walked six batters, and they committed four more errors adding to their staggering season total of 35 in just eight games to complete the less than memorable performance.
There were two bright spots however as rookie John Molloy and returning vet Joe Carr both pitched outstanding in relief allowing just four hits in over five innings of relief work.
The Hawks will now refocus on the fundamentals as they prep up during their AI League bye week. Their next League contest will be on April 24th vs Garden City.
Hawks Rally Past PW
Only in the world of Carey Baseball can you almost forfeit because you can't find the field. Only in the world of Carey Baseball can you have a second pitcher in one season take a no-hitter into the fifth inning of a game that you are losing by two or more runs. And, only in the world of Carey Baseball can you win when you score in the double digits and lose every other time. Such is the life of a Seahawk as the kooky 2007 campaign took yet another crazy twist as the Hawks exciting come from behind win over the Port Washington Vikings 10-8 almost never happened because of a mistake on the schedule.
Fortunately, the game was played and what it brought was a signature Carey inning as a 5-3 sixth inning deficit turned into a seven run-two out rally. A rally that was started and finished by sophomore Tommy "Teeth" Torregrossa, with a little help from fellow Soph John "The Other Rookie" Molloy.
In the middle there was a clutch two out single by T.J. "Mapquest" Humrich, a smoked single by Gianni "Oh No, Nice Move Coach of the Year" Masci, a thunderous triple by Jamie "B.O.B." Spanopoulos and an eventual game winning laser from Joe "Mr. Congeniality" Leamy. When the dust settled seven consecutive Hawks reached base safely, six by way of base hits. The only one who didn't was Smilin' Sal Intagliata who was intentionally walked after crushing a ball that still hasn't landed in his previous at bat.
Holding their lead in the bottom of the sixth proved to be a bit more difficult once Spanopoulos ran out of gas. An early strikeout was followed by four consecutive walks and a whole lot of nail-biting as the Vikings closed to 10-7 before Anthony "Scarecrow" Marino came on in his first ever save situation. Marino gave up a hit and a walk to make it 10-8 before a near 5-5-3 double play almost ended it. After several foul balls a major league pop-up took flight twenty feet in front of home plate with runners on first and second racing for home. As the Hawks bench bunch held their collective breaths Marino called off the infield unit and cradled the third out like it was a routine can of corn. It was a go to guy type play that the Hawks defense had been looking for all season. It gave the Hawks a very satisfying win and hopefully some much needed confidence in winning the close ones.
The Hawks conclude their whirlwind week tomorrow at home against the Elmont Farinas. Game time is 10AM.
Seahawks Joust Knights 13-6
Racing out to a 10-0 first inning lead the Hawks cruised to a 13-6 win over the Floral Park Knights in their first Non-League contest of the year.
Gianni "Nice Haircut" Masci earned his first Varsity win as he went four and two third innings, striking out three, allowing just two hits and only one earned run. Masci also had a say at the plate as he went 3 for 4 with a single, double and three run Home Run. Sal "Carlos Delgado" Intagliata in his first ever appearance at first base also hit a Home Run as he finished 2 for 4. T.J. "Waterboy" Humrich added three singles and three steals. Dan "Scooby" Babich, Jamie "The Orange Hot Corner Triangle" Spanopoulos, John "7" Punis, Victor "Rapido" Ramos and Kevin "Rookie without a Nickname" Scott all chipped in that plate to pace the 14 hit attack.
Alex "Ringo" Bizelia pitched two and a third innings to earn his first career save.
Vikings Pillage Seahawks
Good old fashioned country hardball was on display as the Hawks and Vikings engaged in a pitchers' duel between the team's two respective aces in the AI/AIV crossover finale at Seaford.
When the dust settled it was Seaford who came out on top 8-4 as the Hawks simply didn't get the timely hits that they had so enjoyed the previous two games. With the exception of some 7th inning cake decorations the Hawks offense fizzled as they only mustered two hits through six innings.
Adding insult to injury was the staggering total of 10 men left on base including a first inning meltdown that saw the Hawks strand a 2nd and 3rd situation with no one out. Somehow, someway a player has to will his team to victory and help scratch out some runs. Unfortunately, today was not the day as the 2-3 Seahawks first place visit came and went.
The Hawks will get back on the horse tomorrow in the first of seven non-league and scrimmage contests starting against Floral Park before they resume with huge AI Garden City showdown on April 24th.
Seahawks Scare(Crow) Off Big Red
Behind a gutty performance by Anthony "Scarecrow" Marino the Seahawks rolled to their second straight blowout win, an 11-2 thumper over the Glen Cove Big Red in their final home AI/AIV crossover contest.
With the win and a Garden City loss (11-1 @ Island Trees) the 2-2 Seahawks have quietly moved to the catbird seat as they are now tied for first in the A1 Standings.
Marino's first Varsity victory statline read like a gem: 6.1 innings, 6 hits, only 2 walks and 9 strikeouts. His ability to put the ball on the ground also paid off dividends as the Hawks defense was solid all game long. Alex "The 5th Beatle" Bizelia chipped in a scoreless 2/3's of inning to wrap this one up.
At the dish, John "Johnny P." Punis got things off to a blistering start as he doubled over the centerfield fence to lead off the game. He would later hit his second double of the game over the rightfield fence to finish up 2 for 5. Jamie "Orange Triangle" Spanopoulos, whose agent says he is not allowed to make the third out while attempting to steal third base, went 2 for 3 with two doubles and 3 RBI's. Sal "Nobody Touch My Bat" Intagliata added two singles and 3 stolen bases, T.J. "Coach, I'll Get Back" Humrich three run homered for the second consecutive game, and Nick "Nicoletti Santorici" Santoro's run scoring single all helped pave the way to another double digit output.
The Hawks next fly to Seaford tomorrow at 11AM where they complete the crossover schedule against the always tough Vikings. Game Time is 11AM--Somebody tell Jamie!!!
Seahawks Blast Blazers 23-6
Nine days of waiting was more than enough as the Seahawks were finally given another opportunity to redeem themselves in the AI/AIV Crossovers as they travelled to Great Neck North to take on the newly tanned Blazers.
Sal "...And Still Coach of the Year" Intagliata got things off to a good start as his two run bomb staked the Hawks to an early 1st inning lead.
In the second inning 17 batters, 12 runs ,11 hits, 5 extra base hits and a T.J. "Nevermore!" Humrich laser over the left field wall culminated a 1 hour inning long hit-a-thon.
Unfortunately, the long delay also hurt the Hawks in the field the next inning as they got caught napping as Great Neck put their own 6 spot on the board to make it unecessarily close at 14-6.
The ship was quickly righted in the fourth as 6 more Hawks crossed the plate to put the game well out of reach.
After a two game hitting slump it was good to liven up the bat rack as 12 Hawks reached on base hits for a total of 26. Leading the way was Humrich who was 6 for 6 with 6 runs scored and 6 RBI's (Very Spooky!), Intagliata finished 2 for 3 and 4 RBI's before giving way to back spasms. Gianni "Lamborghini" Masci notched a 2 for 4 day with a bit of warning track power as he doubled up against the fence. Joe "Joey Wrists" Leamy went 3 for 6, Tommy "Teeth" Torregrossa in his Varsity debut went 3 for 5 with an RBI, Chris "Whitesnake" Vella went 2 for 3 and Alex "The 5th Beatle" Bizelia added his own 3 hit performance to pace the Hawk attack.
The Hawks now rest up before they begin a five games in five days stretch starting Monday when they welcome the Glen Cove Big Red at 12PM.
Bulldogs Maul Seahawks
Following Monday's jab to the chin, the Hawks caught a right cross directly on the schnozz in game two of the A1/A4 crossovers as they were humiliated 13-0 in the home opener against Island Trees.
The clawless Hawks committed 11 errors as they actually trailed at one point 8-0 in the fifth inning despite the fact that T.J. Humrich was pitching a no-hitter. At the plate, the Hawks pitched an egg as they only managed two hits again for the second straight game. Gianni Masci went 2 for 3 as he represented the sole offensive threat.
At 0-2, the Hawks now must wait 9 days before traveling to Great Neck North on April 5th before resuming league play. In the meantime it is literally back to the drawing board as the Hawks prepare for a solid week of good old fashioned fundamentals.
Hawks Drop Opener 9-5
After a two week layoff that saw six scrimmages fall by the wayside, the rusty Hawks simply didn't get it done against the Clarke Rams as they dropped the first of their five crossover games with Conference A4, 9-5.
The Hawks didn't hit, didn't field, didn't pitch and didn't hustle like a team on the rise. In fact with the exception of Jake "The Snake" Herman's four strong innings of relief, 3K's, 1 earned run only, the Seahawks were as stale as week old bread. They were only able to muster up two hits, one by T.J. Humrich on a bloop single and one by Sal Intagliata on a double.
In the field they committed several physical errors (3) and several (2) mental errors. Pitching-wise six of the nine runs scored did so by way of Bases on Balls. More disappointingly than that was the lack of fire exhibited by a team that has League Championship aspirations.
Certainly, there is no need to hit the panic button as an immediate opportunity to get back on the horse comes tomorrow against Island Trees in the home opener, Game Time is 4:30PM, but the need for a go-to guy is already being sought after.